The 8 Best SSD Cloud Hosting Providers of 2020
Cloud hosting is the latest kind of hosting that has been growing popular in recent years. Here's a list of cheapest cloud hosting services of 2020.
The concept of cloud hosting is simple, as the resources for maintaining your site are spread across several web servers and are allocated as per need basis. What it means is that your website will have a lesser risk of downtimes as a consequence of server malfunction.
Cloud hosting lets you manage peak loads quite easily, without handling any bandwidth issues because another server can deliver the additional resources if needed. Either you have just started freelancing or you are an experimented developer, this list of cloud hosting will help you to save up some money.
When cloud hosting was a new concept, it was quite expensive, but it has since become affordable as more web companies join the fold. Some of the reputable companies offering cloud hosting services include:
1. Kamatera [30-day free trial]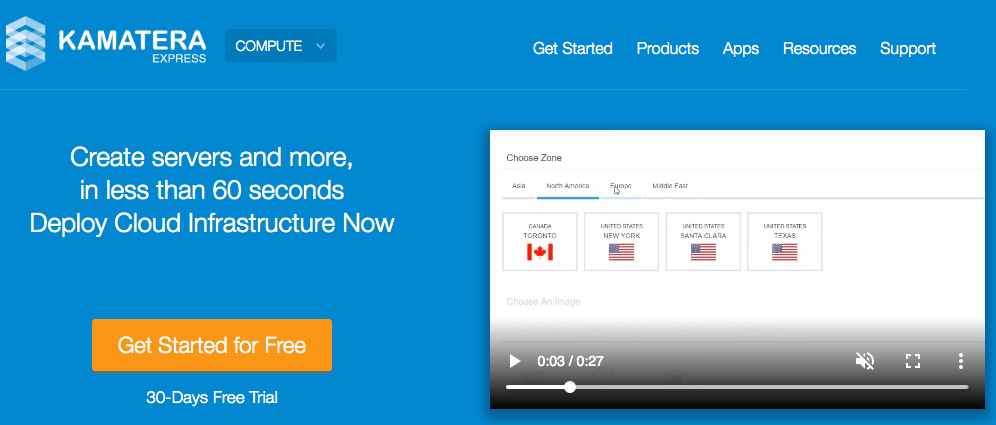 Kamatera was formed in 1995, and it offers some of the cheapest cloud hosting services on the web. Kamatera has equipped its solutions with reliable infrastructures like SSD and Intel Platinum 8270 processor. The company offers various products, including load balancers, block storage, and cloud servers. In addition to the cheap hosting, Kamatera also provides a 30-day free trial account, with which you can sample their services.
Kamatera operates 13 data centers in the Middle East, Asia, North America, and Europe. These facilities are designed to provide the highest standards in surveillance, technology, and security, and to guarantee round the clock uptime for clients. The centers will ensure your site has fast-loading speeds.
Managing settings and features on Kamatera is easy because of its simple control panel. You can install a version of any OS you can think of including Debian, Ubuntu, OpenSUSE, and CentOS. Their server also accommodates all editions of MS Windows. The process of setting up a server is incredibly simple, and you will select the level of resources, including storage, data center, CPU, OS, and storage. It is also easy to add optional services like cPanel. The best thing about Kamatera is the scalability of resources. You can choose from their high specs infrastructure as your site grows, and get terabytes in storage and 256GB RAM.
When it comes to customer queries, Kamatera avails phone support, live chat, and an email system.
2. Vultr [$50 Gift]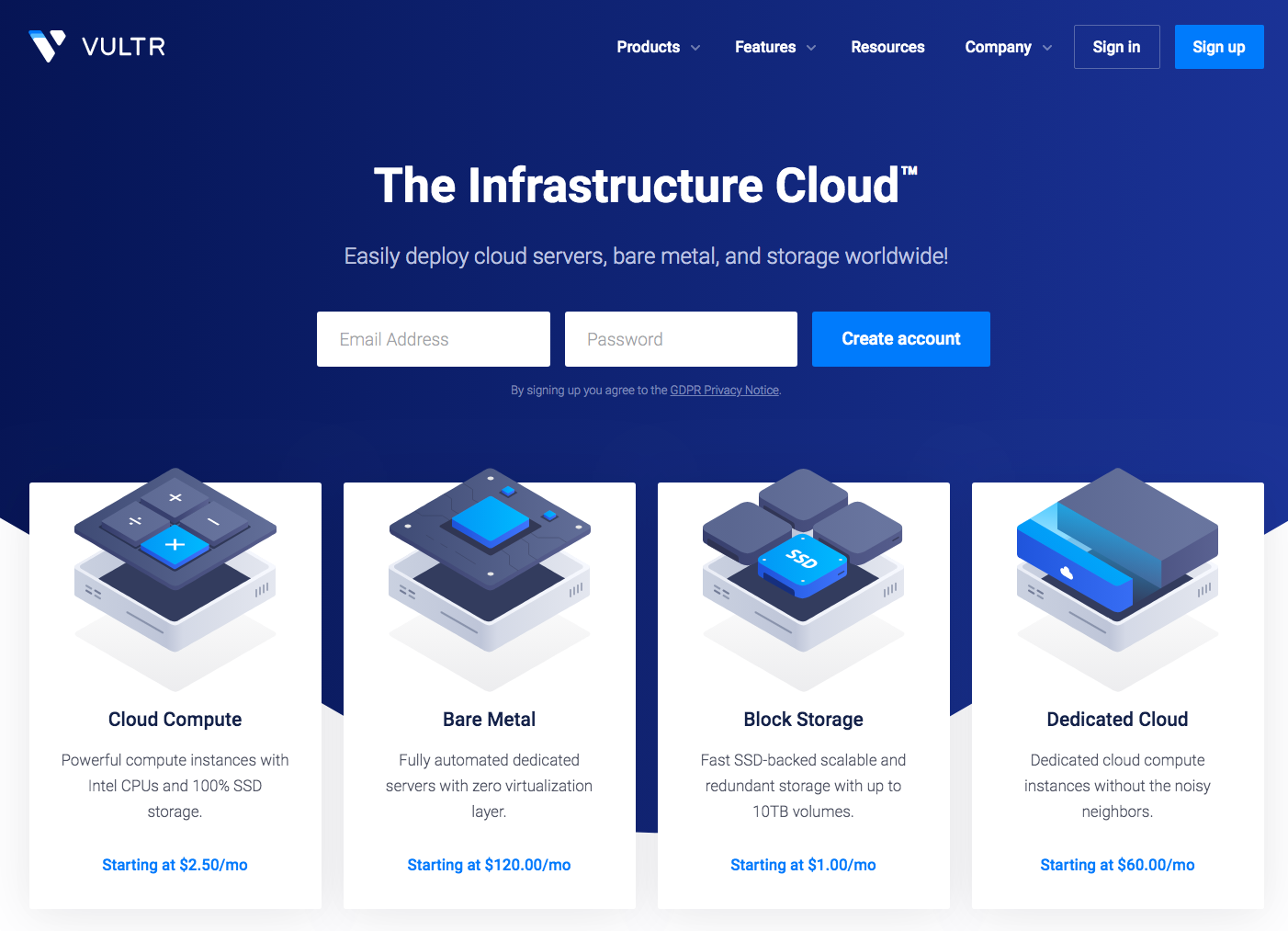 Vultr is among the cheapest providers providing cloud hosting, as their plans start at $2.50/month. Their basic plan offers 500GB, 20GB SSD storage, 1 CPU core, and 512 RAM at $2.50/month. The $5 a month package provides 1000GB bandwidth, 25GB SSD, 1 CPU core, and 1024 bandwidth. The affordable plans are rated as among the best cloud services for beginners.
Good news, they give $50 for testing their platform, so it's a good opportunity to start running your application.
Vultr set out to provide high-performance SSD cloud servers after it was formed in 2014. It boasts 15 data centers in key cities like Singapore, Dallas, Tokyo, Los Angeles, Amsterdam, Seattle, and Sydney. A provider's data centers impact on security and performance of your site. Vultr also accommodates many popular one-click install applications like PrestaShop and WordPress. The control panel of Vultr caters to the need of the customer, and you can install the OS that you like, including Ubuntu and Windows.
Their uptime is 100%, and they are committed to issuing the SLA credit if they fail to reach this guarantee. Vultr's speeds and security are value for your money.
The cons of Vultr include lack of phone or live support and lack of flexibility in payment date, as payments should be made by the 1st of every month.

Digital Ocean's history began in 2011 with an objective to offer cloud hosting and server provisioning to software developers. Their mission centers around simplicity, which you will notice when using their features. They are among the largest and most reliable hosting companies currently.
By the way, this is the second provider which gives $50 for new users.
Cloud servers are called droplets and are typically provisioned in 55 seconds, after which you gain access to its management, including the choice of OS.
Digital Ocean plans begin at $5/month, and it has both hourly and monthly subscriptions. The basic plan includes 1TB data transfer, 25GB SSD storage, a single core processor, and 1GB memory. These offers are among the cheapest at the proposed value. If web space is among the factors that are sensitive to you, you can purchase additional storage at $0.10/GB. There are also enterprise-level packages depending on the resource that you value, like processor, storage, and RAM.
You can start with the basic cloud sharing plan and scale with time. Their uptime stands at 99.9%, making it quite reliable. Developers will appreciate the easy-to-navigate control panel. The company's eight data centers are spread out in Bangalore, San Francisco, London, Singapore, Toronto, Amsterdam, New York, and Frankfurt.
Digital Ocean prides in excellent support facilities. Their website is also vibrant with a community area and an extensive help section. The site, however, lacks live chat or phone support.
4. A2Hosting [High Availability Failover]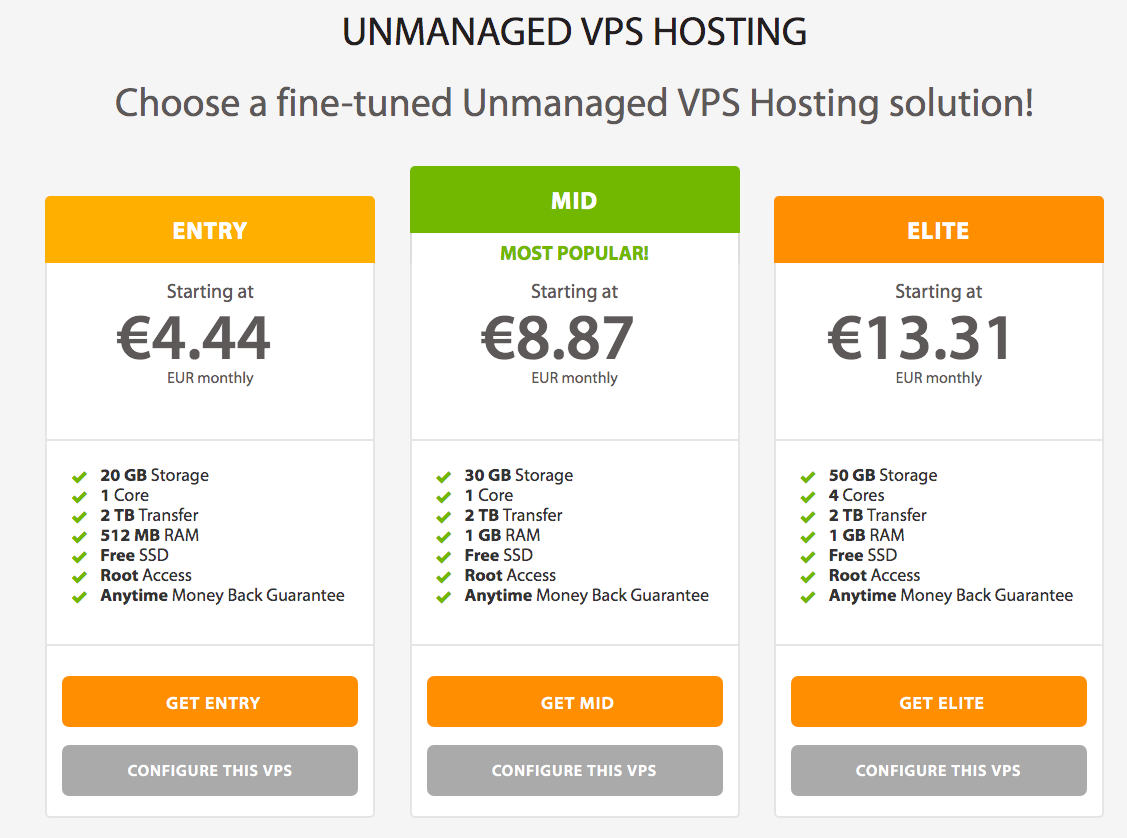 A2Hosting began in 2001 as a web hosting startup named Iniquinet. It was based in Ann Arbor, MI. The startup grew at a fast pace, and it was renamed A2 as an ode to the locality of its base. A2Hosting is often quick to adopt new technology, which is why it is reputable. It adopted SSD in 2013 and turbo servers in 2014 to deliver those rapid load times. A2 is focused on delivering high-speed web hosting services.
The company's QuickInstaller enables users to install any major CMS in addition to development tools like Node. It makes use of the cPanel, which is beginner-friendly, and you can manage your site easily by navigating through different settings.
The data centers of A2 are spread across the US, Europe, and Asia. The facilities are SSAE16 certified, which means that they utilize the latest and most effective security solutions to protect your data. A2 further provides an option called "Patchman" to detect infected files and out-of-date software versions.
The $5 plan is labelled as "Entry" and it includes 1 Core CPU, 2TB bandwidth, CentOS 7 with Webuzo, and 20GB storage. Add-ons can be deployed at an added cost. A2's Cloud Hosting is entirely customized and you will have control over which Linux operating system you choose. It further offers 99.9% server uptime guarantee in addition to High Availability Failover. High Availability describes where your site is automatically shifted to an alternative operational server when a server fails.
A2 provides a free trial that is risk-free, which means that there is a money payback guarantee if a user is not happy with their features. A2 serves its customer base through ticket, phone, and live chat. The strength of A2 is their fast performance, which makes them among the best cloud services for beginners.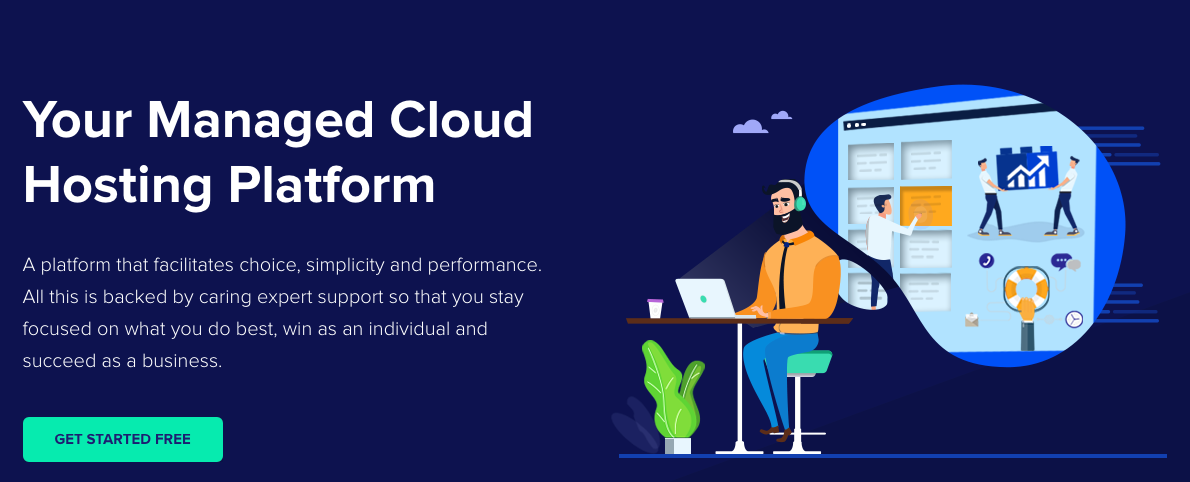 Cloudways run their services on highly scalable cloud hosting, which can be deployed simply and quickly. It was founded in 2011, and it is based in Malta. CloudWays claims the use of over 25 data centers in addition to the infrastructure of KYUP, Google, Amazon, DigitialOcean and Vultr. Cloudways also provides a one-click feature, where it makes copies of your content for restoring purposes.
Cloudways is an excellent choice for developers with a team, and who would rather not give their team full-control of a website. There is a team control board with different roles and functions and access restrictions. Cloudways automatically provisions a firewall for your website, and it monitors the servers keenly to detect any malicious software that may threaten your content.
Cloudways unveiled its own caching tool called ThunderStack which works on Memcached, Apache, and NGIX, etc. The company also offers a one-click installation of SSL. The plan prices are reasonable. At just $10, you will get 1TB bandwidth, 1GB RAM, 25 GB space, and one core CPU.
All the support services of Cloudways are available without time restrictions, and you can utilize tickets or chat.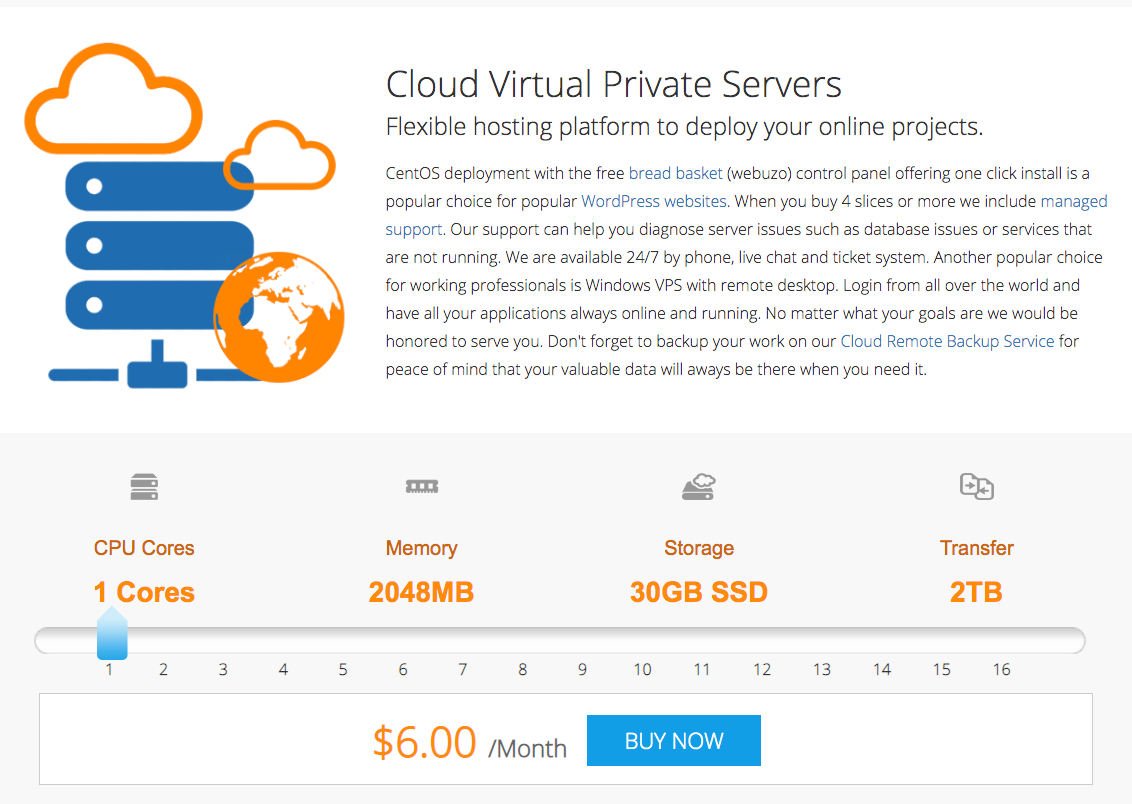 Among the strengths of InterServer is easy scalability. If you have a website that benefits from a lot of traffic, you require scalable web hosting. It offers some of the cheapest cloud hostings, as the basic plan starts at $6/month, which includes 1TB bandwidth, 1GB RAM, and 25GB web space. You can customize a package, depending on your requirements.
The advantages you get on InterServer include SSD drives, 16 OS options, and 99.9% uptime guarantee. You can choose between Linux and Windows server. The use of cPanel will cost you an additional fee. InterServer uses multiple data centres to give speedy and quality services. The page load time is quite satisfactorily when using their services.
InterServer supports multiple web languages, including Python, PHP, and Perl. Salient features on the site include IPV6, backup, and DNS manager. InterServer also provides free migration services.
InterServer's support services are allocated 24/7, but they do not provide live chat. Live chat is among the most effective ways of fixing issues fast and in real time, but you can contact them via phone. Ticket and email systems are also available.
Linode provides web services for thousands of developers, bloggers, and designers. Their plans also feature SSD, and they start at $10/month, including 2 TB of data transfer, 2GB RAM, 24GB-SSD, and 1 CPU Core. Their services can also be sourced for hourly subscriptions.
Linode's data centres are situated in Europe, Asia-Pacific, and North America. Linode Cloning empowers users to make copies of their content and connect with the IP failover feature to secure it in case of a downfall. Your content will be automatically redirected to another server with similar configurations.
Scaling has to be the most solid features of Linode. Many web providers do not offer a scaling option, which means that you will have to switch to another platform if your site outgrows the resources of your provider. Linode utilizes NodeBalancer to distribute the loads on its servers. If load increases at a specific server, it will impact on the performance of other users. Linode divides the load effectively to ensure that all sites are performing well.
Linode also prefers a transparent approach, where users can evaluate the statistics and act on the bottlenecks. You will access resources like graphs which you can use to detect problems. You will additionally be informed on processor speeds, server condition, usage, and connection. Linode offer community chat, and email, fax, phone, and ticket support.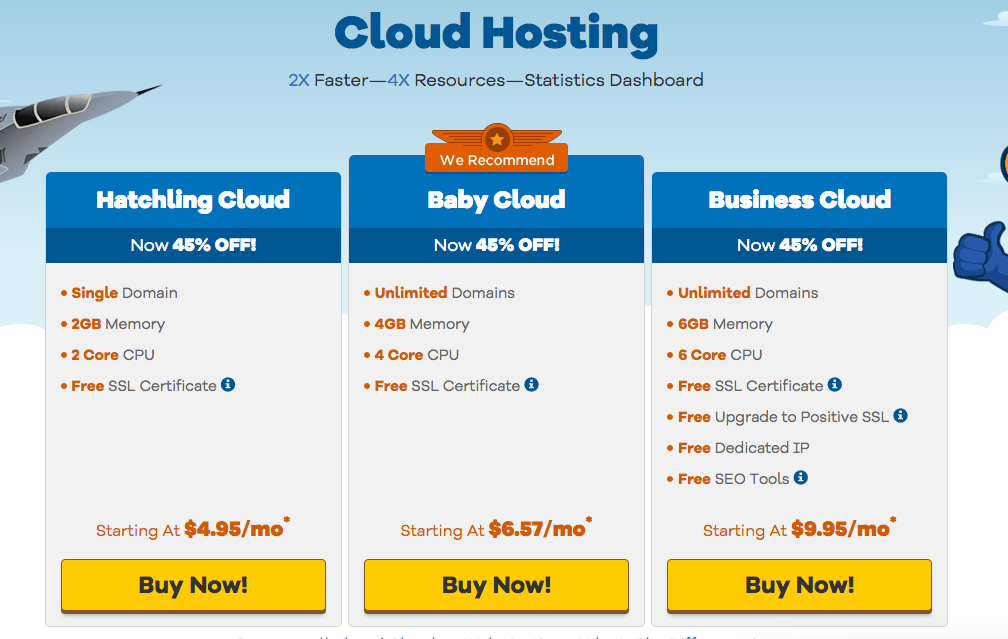 HostGator is known for providing cheap hosting for WordPress, but they also offer low-cost cloud plans. HostGator also continually avails attractive discounts on their packages. The Hatchling Plan can be purchased at $4.95/month, including two core processor, one domain, and 2GB RAM. You can host unlimited domains if you get the Baby or Business package. There is no limit on bandwidth and storage. To get Dedicated IP, you can opt for the Baby Plan for an additional $4/month. All HostGator plans utilize shared SSL while the business package holds private SSL.
HostGator Cloud also provides easy scalability so that you increase the allocation of your resources with just a couple of clicks. The provider's dashboard is simple to navigate through, and you can monitor statistics like usage, content trend, and download speed. HostGator Cloud has invested in an integrated caching tool that assists in loading static content fast. Another technique is Data Mirroring, where three copies of your content are allocated to different locations. If a data center is compromised, you can access the content in another server set in a different location.
You can access their data center via video tutorials, phone, live chat, forums, and ticket system.
Before ending, let's see what is difference between Cloud Hosting and Shared Hosting.
Cloud Hosting Vs. Shared Hosting
Cloud hosting is a service offered on multiple servers. Your website will therefore not be hosted on one shared service, as in the case of shared hosting. The web company can bounce your site from one server to another when adjusting performance spikes and other interruptions.
Shared hosting describes servers with numerous websites between them. If your site is hosted on a sharing plan, it will vie for similar resources with other sites. Some companies pack many websites sites onto a single server, and this will impact on your website's performance and security.
Both plans have their merits and disadvantages. Shared hosting is an inexpensive option for smaller websites, but as your traffic increases, a cloud hosting plan will become necessary.
Final Thoughts
Cloud hosting involves the use of several distributed resources like data centres and remote servers so that you experience zero downtimes. Cloud hosting provides fast data access, and visitors will appreciate the fast load times. Cloud computing is evidently beneficial for developers, business people, and bloggers alike, and there are thankfully cheap plans you can get from different providers. The companies described above offer some of the best cloud services for beginners.
PS. Are you looking for WordPress Web Hostings? Here's a fair correlation between SiteGround and DreamHost.
Enjoying these posts? Subscribe for more