Discover the Top 7 AI Website Builders for Beginners
Discover the power of AI in website creation with our comparative analysis of the top 7 AI website builders. Learn about their unique features, pros, cons, and pricing to find the best fit for your business needs.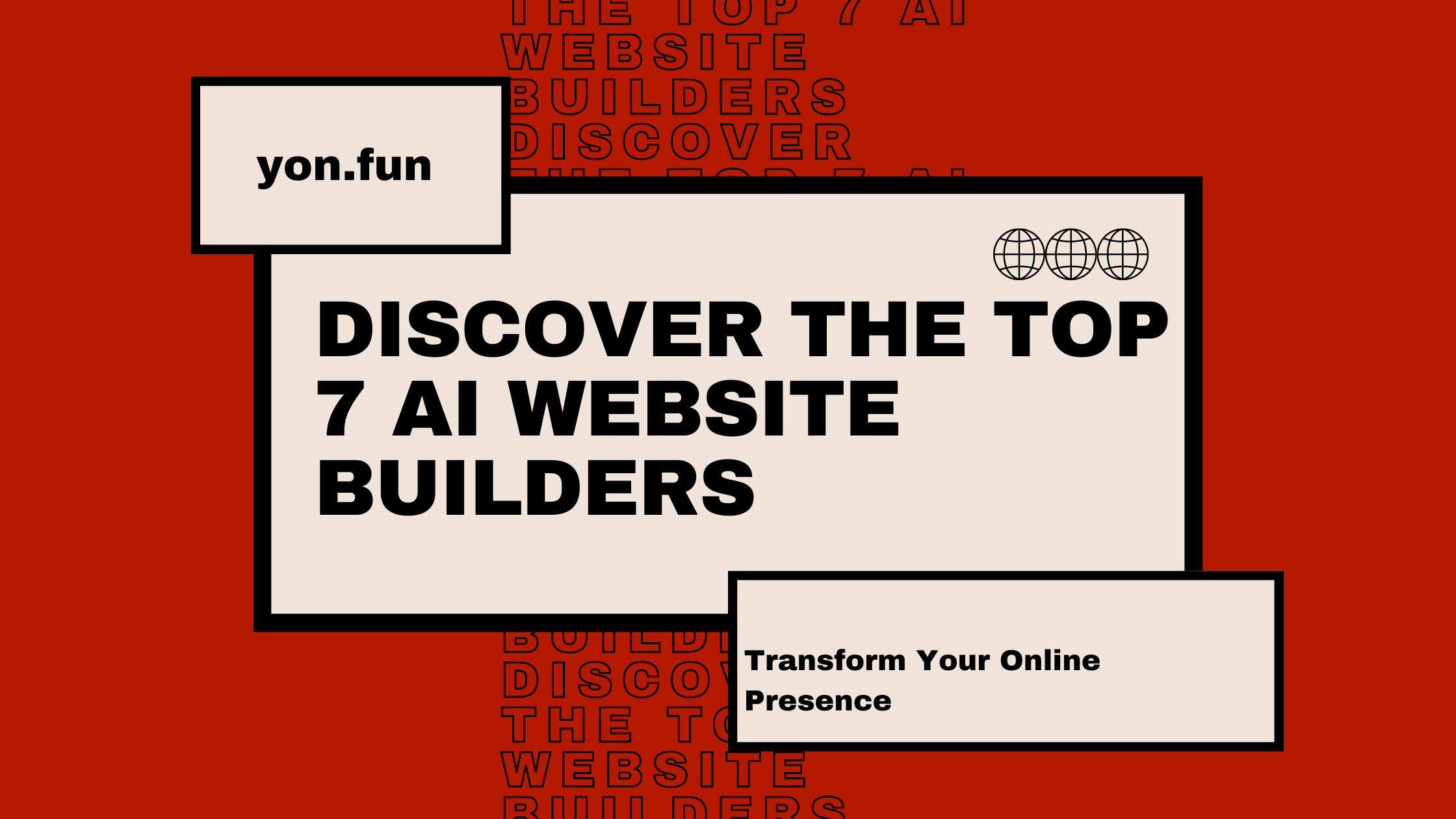 Are you looking to build a stunning website without the hassle? Explore the top 7 AI website creators in this comprehensive comparative analysis, even for beginners.
In this article, we present a comprehensive comparative analysis of the 7 best AI website builders available today.
From design flexibility and user-friendliness to pricing and customer support, we leave no stone unturned in helping you make an informed decision about the best AI website builder.
Overview of Best AI Website Builders
After researching and testing various website builders and their AI tools, we evaluated factors like the AI website building process, ease of use, AI features, pricing, and more.
Based on this analysis, we ranked and reviewed the top 7 AI website builders, as follows:
Top 7 best AI website builders

| AI Tool | Price | Best For |
| --- | --- | --- |
| Hostinger | $2.99 per month | Businesses of all sizes |
| 10Web | $10 - $60 per month | Businesses of all sizes |
| Framer | $0 - $30 per month and per site | Designers and developers |
| Unbounce | $99 - $625 per month | Marketers and businesses focused on conversions |
| Durable | $12 - $20 per month | Small businesses and agencies |
| Pineapple Builder | $0 - $24 per month | Developers and businesses that require custom coding |
| Hocoos | $0 - $15 per month | Businesses and individuals who need a quick and easy solution |
Ready to see the list? Here you are!
1. Hostinger (AI-Powered Content Creation)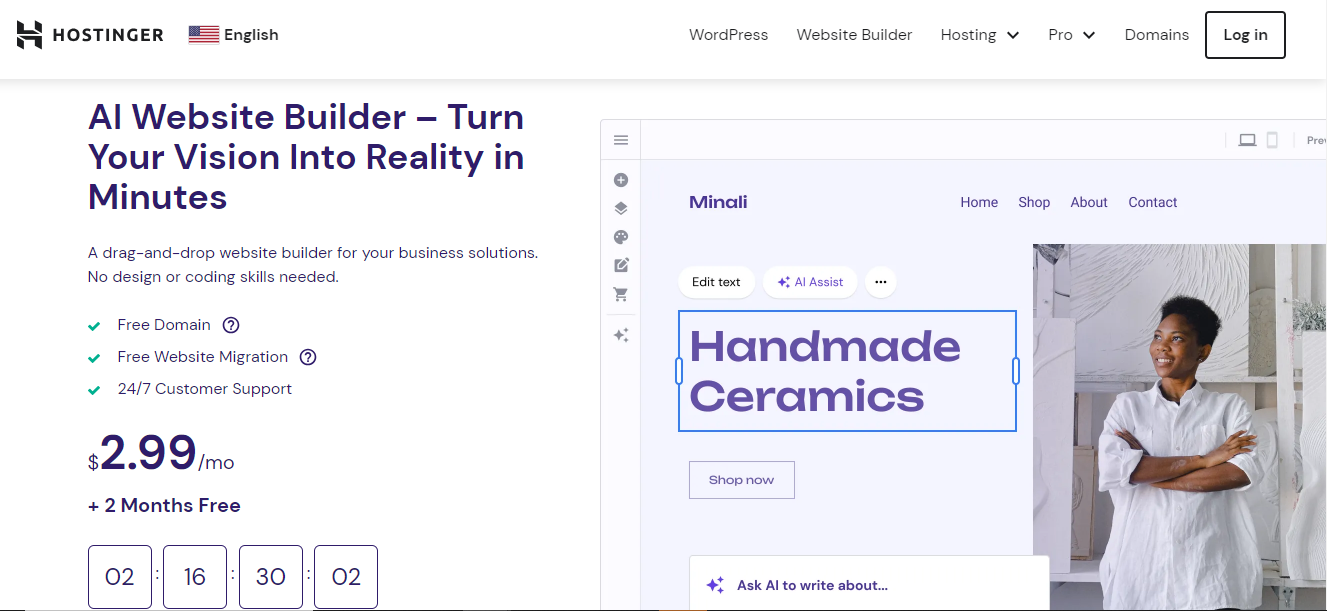 Hostinger's AI website builder offers automated website development and AI-powered content creation in just a few clicks.
At Hostinger, users are guided through a user-friendly interface to select customizable templates, customize design elements, and add content using AI tools.
To get started, users can choose from various pre-designed templates catering to different industries and purposes. These templates serve as the foundation to create a website, and users can then customize them according to their preferences and needs.
Hostinger website builder allows users to enter their brand or company name and answer a few questions to describe their business in a few sentences. The AI then uses this information to generate original content tailored specifically for the user.
This website generator also offers a drag-and-drop visual editor that simplifies the site creation and editing process. It is a budget-friendly option that doesn't compromise on quality.
Hostinger website builder offers a wide range of customization options, allowing you to create a website that reflects your brand.
Once the website is complete, users can preview it to see how it will look to their visitors. They can make further adjustments and changes before publishing it to the web.
Pros:
99.9% guaranteed uptime
24/7 live chat support
Adaptive AI-supported features and tools like AI logo maker
Affordable and beginner-friendly with a familiar drag-and-drop style editor
Provides personalized suggestions for optimized website performance
AI-powered SEO tools to grow your audience
Cons:
Limited design flexibility
Lack of some advanced functionalities required by professional developers, like server-side scripting
Price:
$2.99 per month

2. 10Web (AI Site Recreation Tool)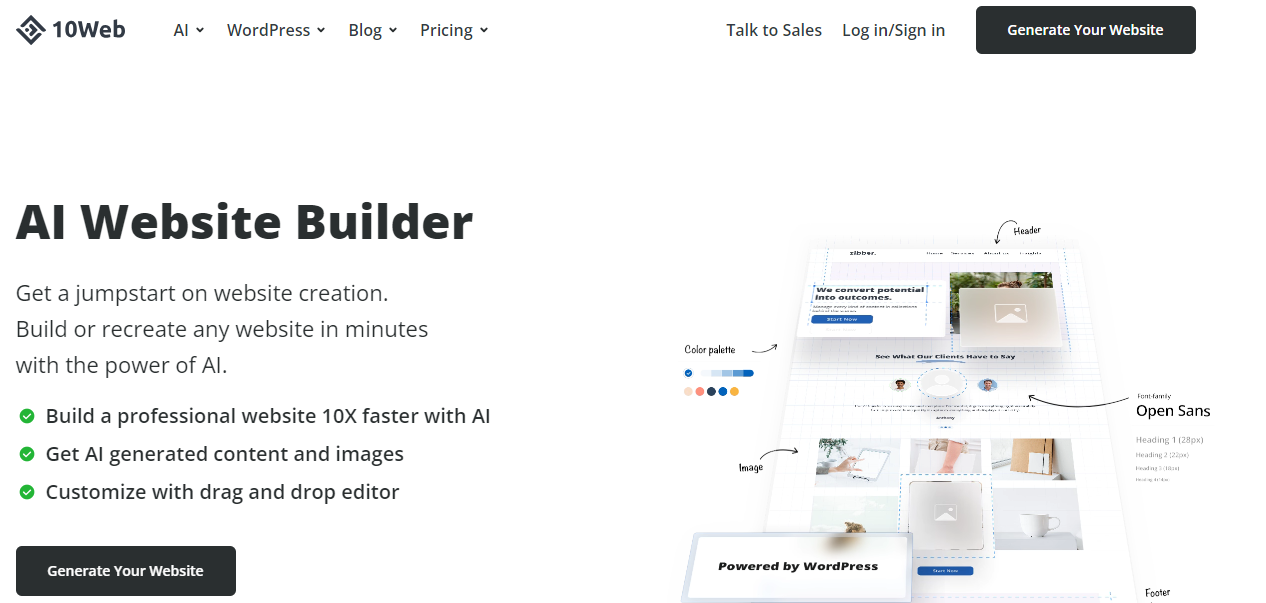 10Web also leverages artificial intelligence technology to provide an AI website builder. It offers automated hosting on Google Cloud and a drag-and-drop live editor based on Elementor.
It provides a comprehensive solution for seamless website development and hosting, making it suitable for businesses of all sizes.
10Web's AI Website Builder is an ai builder that automates website building using the latest generative technologies. It allows users to build professional and original websites from the ground up in a few minutes utilizing great ai tools, with content unique to their business using minimal resources.
10Web is an AI website builder that specializes in WordPress websites. It can recreate any website design or theme on WordPress in minutes.
Also, the features of 10Web's AI website builder analyze the whole website performance and offer recommendations for optimization, ensuring that the created websites are efficient.
Pros:
Advanced AI site recreation tool
Efficient content migration from original to recreated website
Based on WordPress, the most flexible platform for building websites
Automated hosting on Google Cloud
Cons:
No free-forever plan
Site clones need some cleaning up
The accuracy of the recreated website depends on the quality and structure of the original site
Price: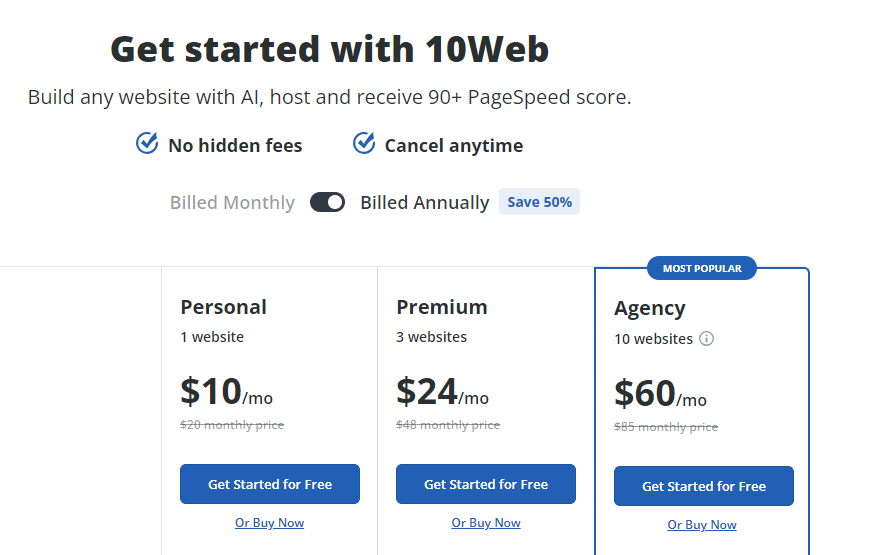 3. Framer (Design Editor)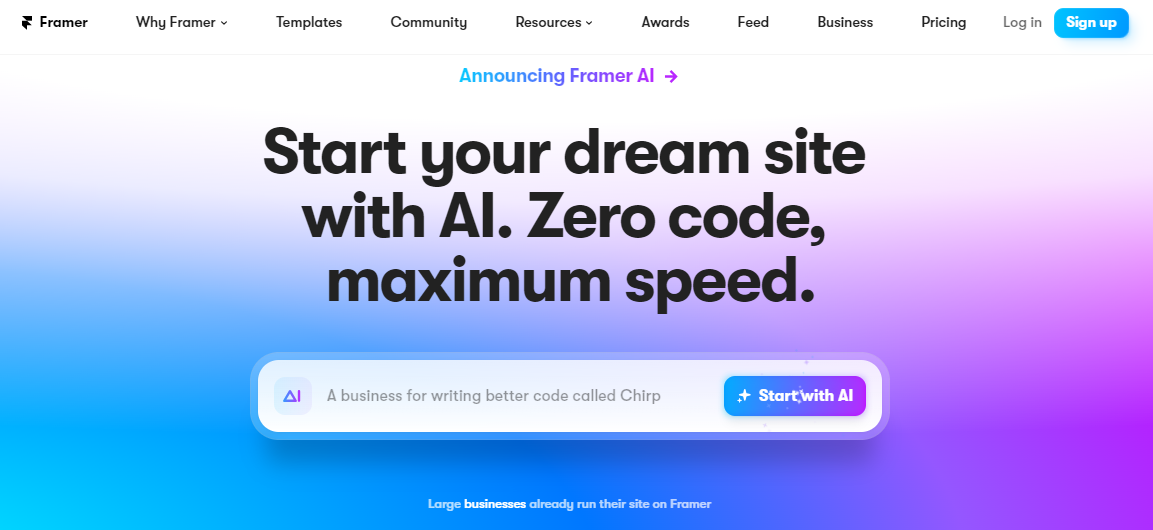 Framer's ai website builder offers design with an ai editor. The Design Editor is a powerful and versatile design tool that caters to the needs of designers and developers alike. It is renowned for its friendly UI, enabling users to create interactive and visually stunning designs for websites and mobile applications.
Framer provides a design editor, a custom domain name, options for unlimited pages, password protection, analytics, and redirects for higher-tier plans.
It offers a flexible and customizable solution, making it ideal for designers and developers.
Framer's features include working with another designer, pulling in a developer, or quickly giving someone an overview of your design.
It also generates animation code that can be used in the production of any website type and offers a built-in ai writer, called AI Copywriter, to enhance website copy.
Framer ai website builder offers built-in ai tools that designers love for their advanced interactive design features.
Pros:
Comprehensive web design platform
Empowers users to create high-speed websites with dynamic content
Real-time collaboration
Analytics
Interactive prototyping (seamless wireframe creation process)
Cons:
Users new to interactive prototyping or code integration may find it difficult to use
It still needs improvement to convert AI website drafts (prototypes) to interactive websites
Comparatively expensive
Price:
$0 - $30 per month and per site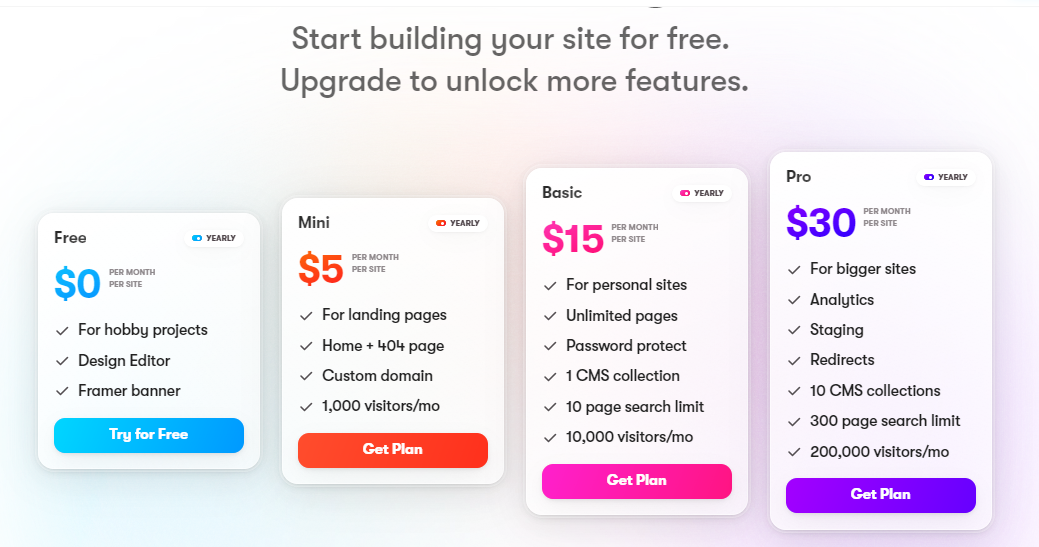 4. Unbounce (AI-Powered Landing Page Builder)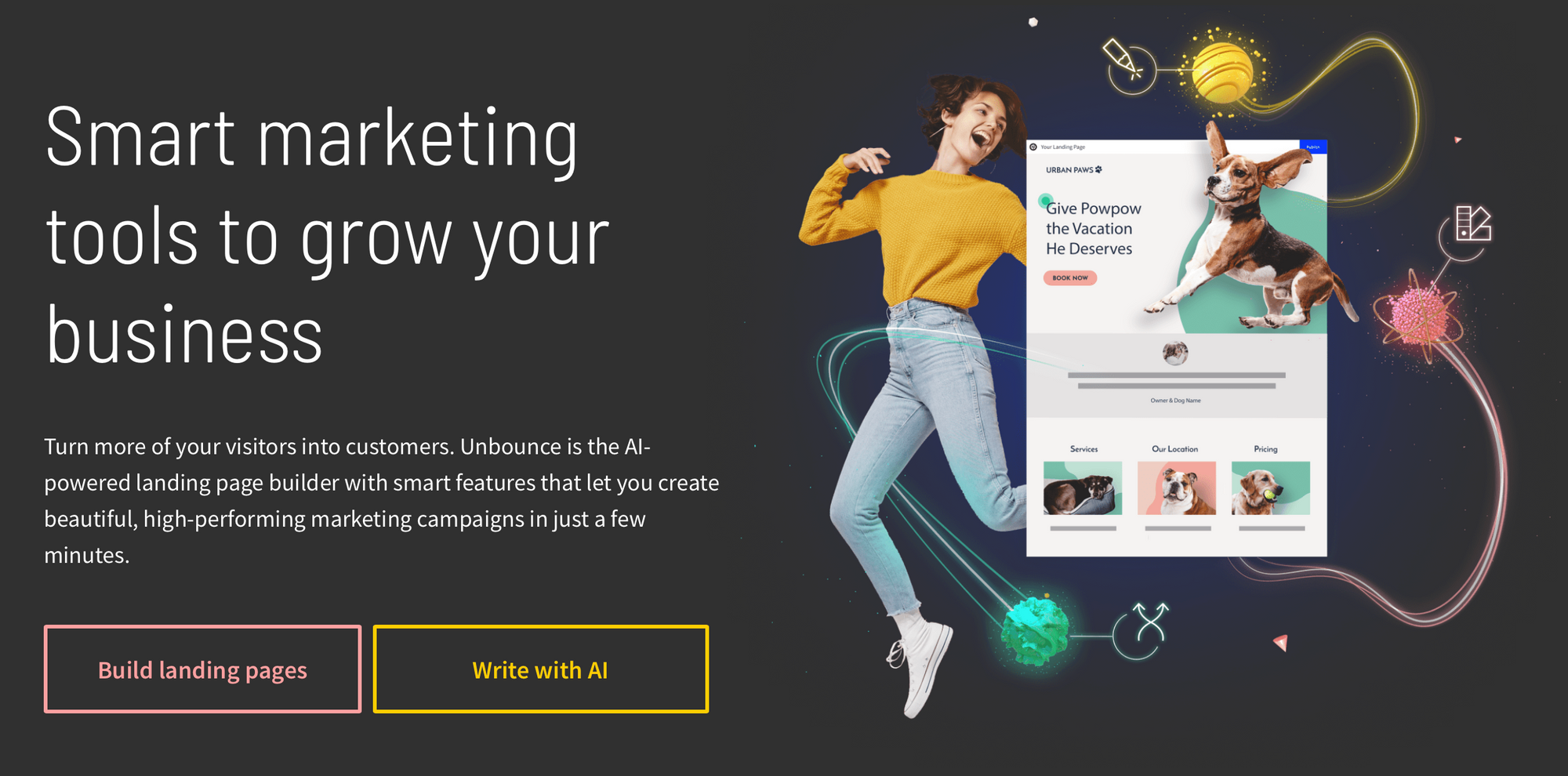 Unbounce is an AI-powered landing page builder designed to help businesses increase their website conversions. It offers AI-supported optimization tools that help you create landing pages, pop-ups, and sticky bars that drive conversions and engage visitors.
Unbounce's AI website maker aims to create high-converting and visually appealing landing pages that improve quality scores and reduce cost per click. It empowers users to design and optimize landing pages for lead generation, sales, and other specific marketing goals.
Unbounce's ai website generator allows users to start with a custom-generated landing page template specific to their business or campaign and add personalized content using built-in ai tools like AI Copywriter.
Users can also integrate their landing page with other marketing tools, such as email marketing platforms or CRM systems, to seamlessly capture leads and track conversions.
Also, Unbounce facilitates A/B testing, where you can create variations of your landing page and test different elements to identify which version performs better.
Unbounce's features include the Smart Builder, which uses AI to provide step-by-step recommendations and improve your page in real time.
Pros:
AI-powered landing page builder
AI-powered optimization and recommendations
SEO tools
A/B testing
Integration capabilities with popular marketing tools and platforms
Cons:
Relatively expensive for small businesses
Price: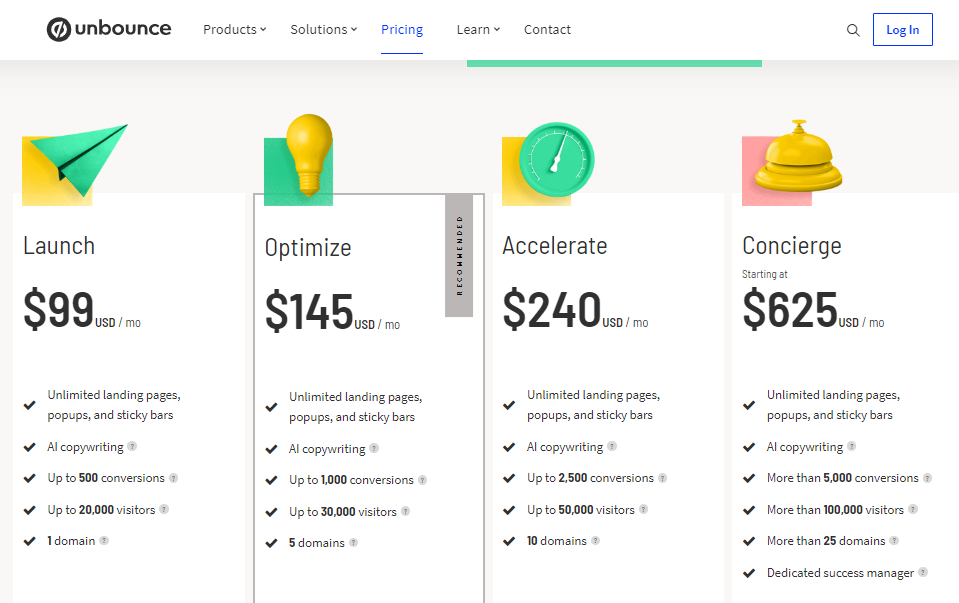 5. Durable (AI-Powered Web Design Agency)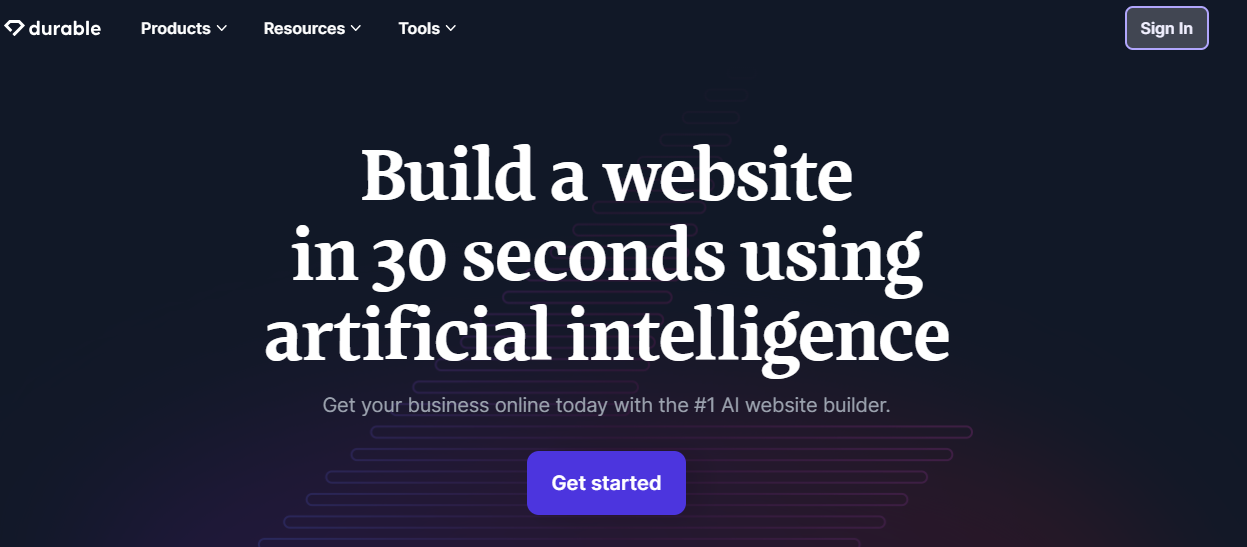 Durable is an AI-powered web design agency that allows users to generate unlimited customized websites for different businesses with one Durable account.
Durable's website builder features include a simple account creation process, the ability to create websites for different businesses in just a few clicks, and the option to customize every site with simple editing tools, custom domains, and slick integrations.
It also offers a built-in AI writer, called AI copywriter, to create optimal and enhanced content for your website type.
Interestingly, Durable is an AI website builder that promises to build your dream website in 30 seconds. It uses AI to generate a whole website with proper images in just a few minutes.
To begin creating a website on Durable, users must enter their business type, name, and location, then click the generate button to watch the magic happen. It even has a name generator if you haven't decided on a business name yet.
Once you get your ai generated website, you can customize or edit each section as per your preferences.
Pros:
A good option to get quick AI-generated free website prototypes
Integration with third-party services
E-commerce functionality
SSL certificates for secure communications
AI-generated promotions
Cons:
Very limited or restricted customization in website design elements
AI-generated promotions can sometimes lead to mishaps in business promotions
Price: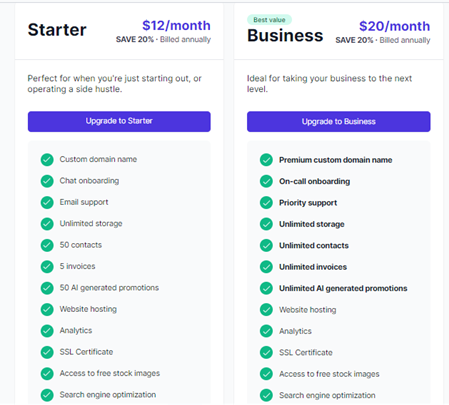 6. Pineapple Builder (AI Assistant for SEO-Optimized Content)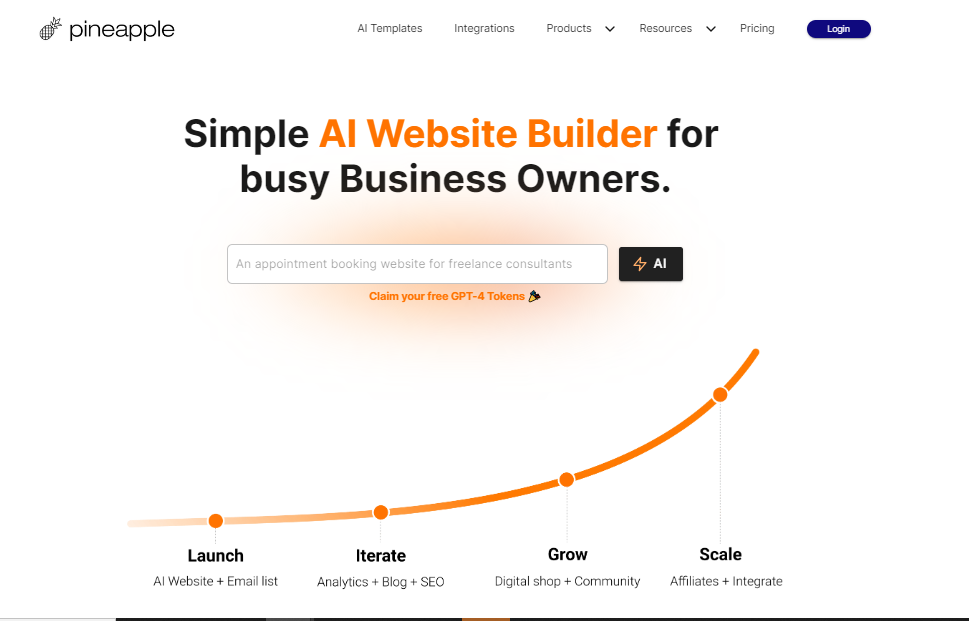 Pineapple Builder is an AI website builder that focuses on simplicity and user-friendliness. It uses artificial intelligence to generate a customized website in just a few clicks.
Pineapple Builder's prominent features include an AI assistant that generates SEO-optimized content, a drag-and-drop builder, and adding custom code to your website elements. It also offers a built-in copywriter to enhance website copy.
To create your dream website, provide your business details, define your target audience, select a design, and let artificial intelligence (AI copy assistant) generate content for the landing page. You can then personalize the style, rearrange elements, and enjoy the process while making the most out of an AI website maker.
Once your website runs, you can monitor its analytics and SEO ratings. Additionally, AI can assist in writing blogs to promote growth and engagement.
It is best suited for developers and businesses requiring custom website coding.
Pros:
AI support for SEO-optimized content and blog post writing
Drag-and-drop editor
Offers integrations and allows to addition custom code
Efficient AI copy assistant and copywriter
Cons:
Users at the beginner level may find code customization and integrations difficult
Price: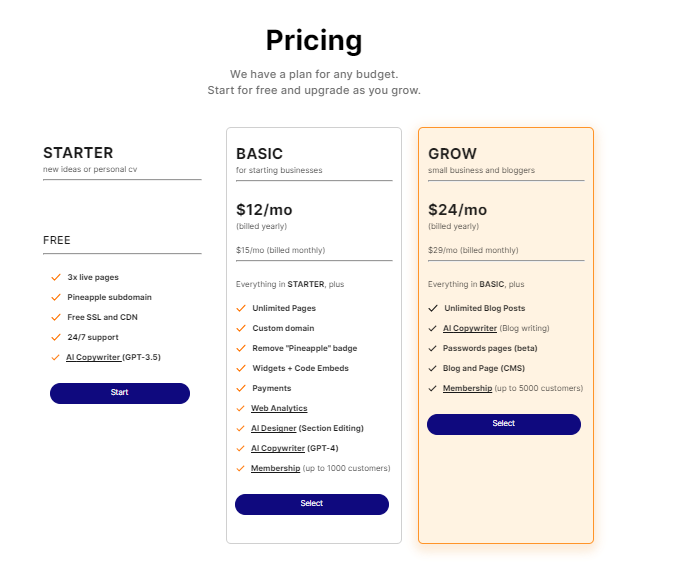 7. Hocoos (AI Wizard for Website Creation)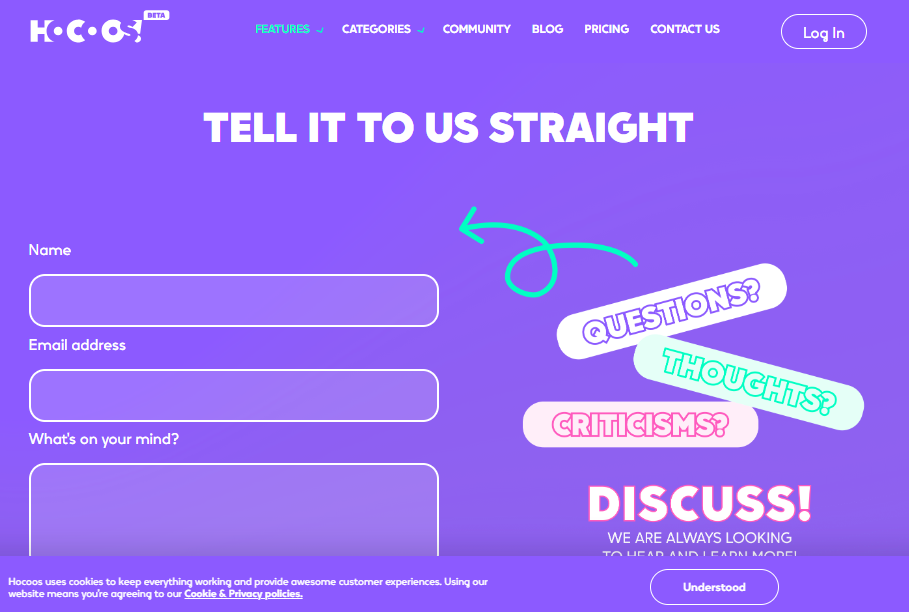 Hocoos is an AI website builder that offers a complete solution for businesses.
Hocoos also offers a range of features, including creating an online store, blogs, booking systems, and tools for marketing. It's an all-in-one platform that helps businesses do more and grow online.
Utilizing Hocoos's AI website builder, you can transform your business concept into an online website within 5 minutes. The process of creating a website is hassle-free, devoid of intricate coding or design challenges.
Simply respond to 8 straightforward questions concerning your business. Afterward, relax as the AI website builder takes charge, converting your answers into personalized content for your full website.
The questions encompass the website's purpose, website type, business name, category, offered services, and primary objectives with the website.
Using your responses, it creates a complete website in minutes, with useful text, design, and images you can customize as you want your full website to look.
Pros:
Easy-to-use and time-saving
Options to create online stores, blogs, and booking system
Integration with marketing tools
SEO friendly
Cons:
Limited business categories
Offers a restricted range of response options
Price: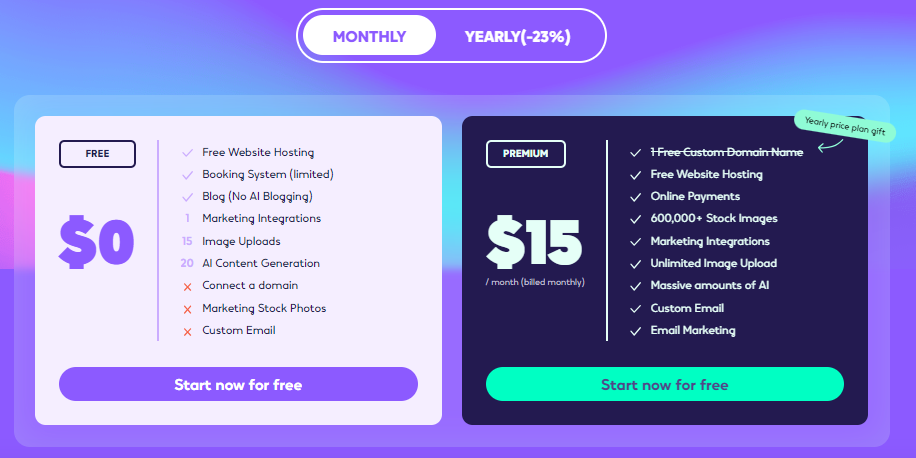 What is an AI Website Builder?
An AI website builder is an innovative website generator tool powered by artificial intelligence that enables users to create professional and visually appealing websites effortlessly.
One of the key advantages of using an AI website builder, or, say, AI website creator, is its user-friendliness.
It caters to both beginners and experienced web developers well, allowing anyone to create a professional website without the complexities of traditional web development.
The drag-and-drop interface further simplifies website-building, allowing users to add and arrange elements on their web pages easily.
Moreover, AI website builders often come with additional AI-powered features, such as e-commerce integration, blog creation, and SEO optimization, making them comprehensive solutions for building and managing websites.
They also offer customization options, allowing users to tailor their websites to match their brand identity or business objectives.
The Future of AI Website Builders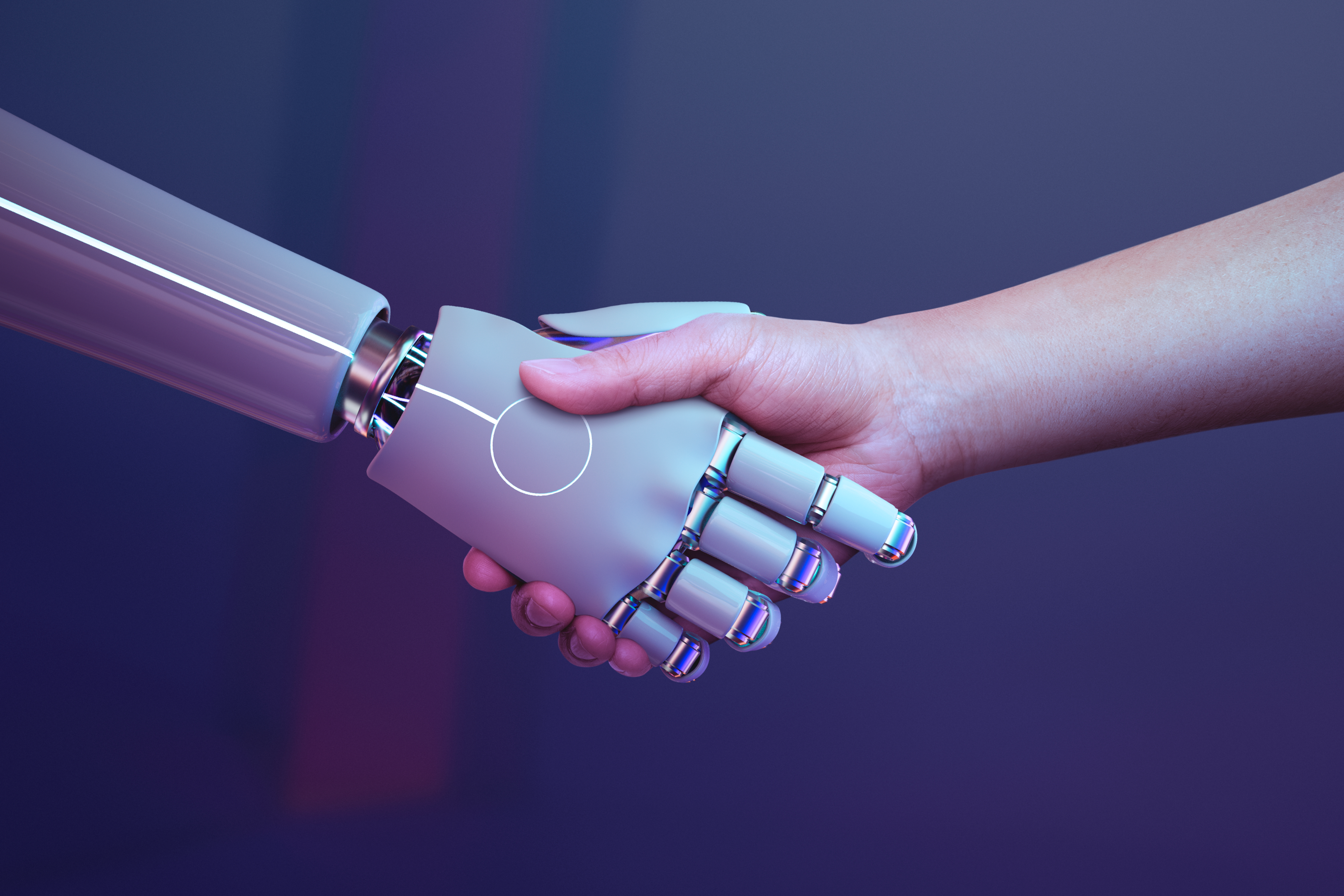 AI website builders' future lies in harnessing cutting-edge AI technologies' power. AI algorithms are becoming more sophisticated, enabling builders to analyze vast amounts of data and deliver more accurate and personalized results, resulting in more efficient AI-generated websites.
Some of the exciting features of AI website generators include:
Hyper-personalization
The future of AI website builders holds exciting prospects, with hyper-personalization being a key driving force. In this era of data-driven decision-making, AI will leverage user data, preferences, and browsing behavior to build websites tailored to individual users in real time.
Imagine a website generator that adapts content, layout, and offerings based on each visitor's interests and needs. Hyper-personalization will revolutionize the user experience, making websites more engaging and relevant.
Improved Design and Creativity
As AI technology continues to progress, ai generated website designs will become even more creative, pushing the boundaries of visual aesthetics and innovative user experiences.
AI algorithms may better understand aesthetics and design principles, enabling them to generate content using improved generative ai algorithms to captivate audiences.
These AI-generated designs will be aesthetically pleasing, resulting in stunning website designs. By leveraging generative ai, website generators will be able to maximize user engagement and conversions.
Real-time Adaptation
Real-time adaptation is another game-changing feature that AI website builders or AI website generators may offer in the future. As user behavior and market trends evolve rapidly, websites must keep pace.
In the future, an AI-supported website or AI website generator may be able to adjust and evolve on the fly, ensuring that they remain up-to-date and aligned with the latest trends and user expectations.
This adaptability will enable a business to stay ahead of the competition and effectively cater to ever-changing consumer demands with their ai AI-generated website.
Seamless Integration With Other AI Tools
Integrating AI website generators with other AI tools and services may be seamless and powerful. Websites may be able to interact with chatbots and virtual assistants, enhancing the overall user experience.
AI analytics platform in an AI website generator will provide valuable insights into user behavior and website performance, allowing businesses to make data-driven decisions and refine their strategies for better results.
Ethical Considerations and Human Oversight
However, as AI website builders become more advanced, there will be ethical considerations to address.
The increasing reliance on automation and AI raises questions about data privacy, transparency, and algorithmic bias.
Human oversight will be essential to ensure that AI is used ethically and responsibly. Striking the right balance between automated processes and human input will ensure fair and unbiased website creation.
Conclusion
In conclusion, AI website creators are game-changers for individuals and businesses seeking to establish a captivating online presence and build websites for their businesses.
Lack of inspiration? See how Midjourney can help you with website design ideas.
Nowadays, an AI website generator or builder offers a quick, efficient, and user-friendly way to create professional websites without coding skills.
The key is understanding your requirements and choosing AI tools that best fit your needs for building entire websites in no time.
Happy AI Building!