Hi, today is a very important day, not only because I want to share some thoughts with you about CodeCanyon, but also because this is my first post on this blog. Hope you'll like and find it useful.
So after a year of selling on CodeCanyon, I can't find it to be like a "primary monthly salary", rather just some additional money monthly, to pay for VPS, Domains and other things on Internet ... of course it depends on what products are you selling, but anyway, after me, there are some advantages and disadvantages which I'd like to share with you.
So let's begin with advantages!
It has very high traffic from different countries.
If somewhere exist a place to share your products with thousands of people, that is the place, after SimilarWeb CodeCanyon has last month (April '18) more than 11M visits, we can see that in next image: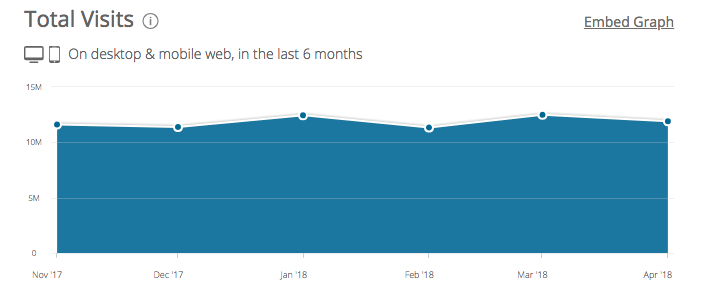 Traffic from November 2017 to April 2018
Many users are from India, the United States and Brazil.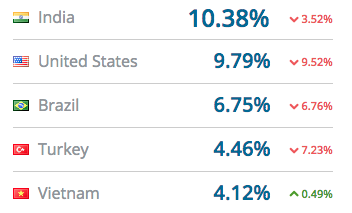 Top Traffic by Countries
As you can see, your product has many potentials buyers ;), but there's also a negative point, which we're going to talk about later in the disadvantages list.
OK so, we have our product and we're going to upload it, and all these people will buy it, and all will be happy ... looks fantastic, nope?
Yes, but that's not true, the first day when your item has been approved, you could have some visits on your product page, but in the second, third day - not so many, that's why sometimes I use BuySellAds to promote some of my scripts!
If you're going to upload your item on CodeCanyon, make sure you have got good description of your product and some good images, preferably some GIFs which shows your product in actions!

An example of a GIF image
Here you can see an example of my own, with GIFs images - P.S. This is not a good example of how a product page has to looks like!
Some potential clients for freelance
Yes, some of your buyers may need additional help with your product, or would like to extend it only for their business model, in these cases you are the best person which they can appeal!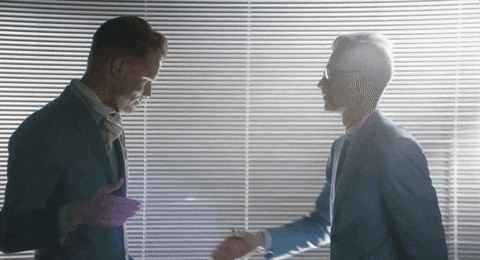 I had some requests like these from the beginning and it was very nice because while you help someone, you can also improve your product and make more attractive for other clients.
This is also a good opportunity for requesting some reviews because most of them won't do without :) So every time you help someone, request a review on CodeCanyon!
Many of clients are not developers
That is the interesting part, as I said before:
As you can see, your product has many potentials buyers ;), but there's also a negative point, which we're going to talk about later in the disadvantages list.
The negative point here is that many people from CodeCanyon are not developers, most of them don't know how to work with modern Frameworks, Programming Languages and so on. They want only to buy, upload to server and to do nothing, your product has to run without any additional steps.
Another point here is WordPress, there are a lot of plugins for it, maybe that's why it has so many visits monthly, but personally I dislike WordPress even if it's very very popular, at least because it's built on PHP, which is a very old programming language, and also because making plugins for it, is a shot in head - that's my point! I'd rather Node JS which allows me doing many good things faster and easier.
Very small prices
My last product is about Crypto Currency, I spent on it for almost 3 weeks, each day for about 5-6 hours. The technology which I used there was kind of new for me, and (as I understood later) not so easy to work with, but what I want to say is: I can't sell it with a good price, even if it's a good product!.
Take a look at what Mike, a former CodeCanyon author told about this, and I agree with many of his points, but the favourite part for me is that:
They call us Authors… and price our products like eBooks.
Hmmm. Always been a bit of an annoying one this, I'm a software developer. Not an Author. The very nature of the CodeCanyon website means products are technical in nature and quite rightly sometimes buyers need support in setting them up. But can an experienced software developer offer 6 (to 12 months) of setup and support for only $2?
You can read more about this on his post, and make your own opinion, maybe we could change something, maybe next time when you'll buy something from CodeCanyon, you'll take this more seriously! Even if you pay more than $90.
I hope you've found at least one answer to your questions if not, let me know in comments!
Also I'd like to hear your thoughts, what do you agree with and what you don't?